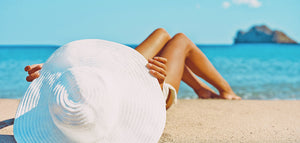 Summer Skin - Do's And Don'ts
The sun makes us feel brighter on the inside but can cause some damage on the outside, so here are some ways to keep our well skin protected this summer.
1. Don't Forget Your Lips: Your lips are a part of your skin so it makes sense to keep them protected. Use lip balms that have SPF 15 and above. This will help block out the sun's rays and keep them soft and smooth. Reapply throughout the day.
2. Keep hydrated: Well this is a no brainer but it's hard for some people to keep drinking water especially with the recommended 15 cups for adult males and 11 cups for adult females. I mean…ain't nobody got time for that! But it is very important to keep your body hydrated especially during hot weather. You get sweatier so your body and skin needs more water for replenishment.
3. Shower with cool water: Warm water for showers just feel so good especially after a long, busy day. But did you know that warm/hot showers can strip moisture from the skin? We don't want that. Also, cool showers after a day of sweating can take away dirt and decrease breakouts.
4. Get rid of excess dead skin cells: It's important to exfoliate year-round, so it's a good treatment for your skin to get some exfoliation during the summer.  Exfoliate the whole body using a scrub before a shower.This gentle sea scrub helps exfoliate the whole body, promotes tissue health and visibly brightens the skin.
5. Don't forget SPF: As we all already know, SPF is your BFF! Sunscreen acts as a shield for your skin cells and protects your skin from damage. Regular daily use of SPF15 or higher can reduce your risk of developing squamous cell carcinoma (SCC) by about 40 percent, and lower your melanoma risk by 50 percent! Helps prevent premature skin aging caused by the sun, including wrinkles, sagging and age spots. If you go swimming, we suggest you apply sunscreen multiple times.
6.  Include antioxidants in your skincare regime: Antioxidant serums work wonders to hydrate your skin. Besides, they protect your skin from environmental damage, help to boost collagen and scavenge free radicals to prevent damage to skin. Include a good antioxidant serum in your summer skincare routine. 
7. Avoid heavy make-up: Heavy makeup prevents the skin from breathing. Humidity and heat also impact the skin's ability to breathe. Instead of heavy foundation and other cosmetics, you could consider using a tinted lip balm and a tinted moisturiser if you need to wear some makeup.
8. Don't forget your eyes, lips and feet: Always wear sunglasses to protect the eyes from the sun's harmful rays. Use a moisturizing under eye gel and a lip balm with SPF under your lipstick. Scrub your feet to exfoliate. Apply sunscreen and moisturizer on your feet too, especially if you are wearing open-toed sandals.

Here's a list of our go-to summer products.
---