Award-Winning Skincare Expert. A resource for how to treat your skin with the best products and technologies.
We believe that the key to beautiful skin is a long-term approach that incorporates a seasonal regimen and a healthy lifestyle rather than short-term quick fixes.
Equipped with the most modern technologies, cooperating with a group of specialists, who know the most effective skincare methods and techniques, we guarantee the highest quality of treatments, unavailable in other skin care salons.
Our treatments are a mixture of the most innovative technologies and timeless techniques. The results are undeniable and the process is never too aggressive. All of our luxurious aesthetic services are incorporated into our customized treatments that are based on the condition of the skin, rather than a type.
foundation to an effective skincare routine
Step 1: Cleanser
Cleansing is the first step in any skincare routine. It clears away product buildup, environmental impurities and lets the skin breathe.
Step 2: Toner
Toning always follows cleansing. It balances the pH of our skin, allowing for maximum efficacy of all products that follow.
Step 3: Moisturiser
Moisturizer is the final step in a basic skincare routine. It locks ingredients in and creates comfort.
Discover beauty in Port Láirge!
Based in Waterford City, Golden Skin is more than just a skincare salon. It is a combination of modernity, comfort and efficiency in the pursuit of beautiful and healthy skin every day. We don't believe in trends, rather, we invest in and utilize the most effective technologies.
Here, advanced cosmetic technologies are combined with the highest quality and friendly treatment methods. Electroporation, radiofrequency, ultrasounds, LED therapy and micro-puncture are among the tools that we use.
We also believe that facial massage is an essential part in any skincare treatment.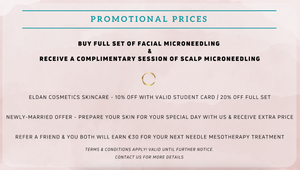 A winner of...