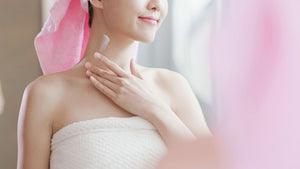 Taking Care Of Your Neck And Décolleté
A lot of people often center skincare habits on what they call 'face', but it's crucial not to forget about other parts of the body, that can visibly show signs of aging, specifically the neck and décolleté.
The skin on your neck has fewer sebaceous glands than your face. Without these natural oils, your skin dries out more quickly, and is more susceptible to the harmful rays of the sun, wind, cold and pollution. As a result, lines, wrinkles and age spots appear sooner than on other areas of your body.
And let's not forget about 'tech neck', the modern day dilemma of neck lines caused by the constant motion of looking down at our devices. 
Here at Golden Skin, our customized treatments utilize a combination of modalities, which may include ultrasounds, medical peels, biostimulators, mesotherapy or radio frequency. Our aim is to boost collagen production and increase cellular turnover, exfoliate and retexturize the skin, and allow for deeper penetration of the products that follow. Results include brighter, tighter, hydrated, plumper and refreshed skin.
In between treatments, we recommend applying your body routine to the skin from your jawline to toes, and applying your face routine from the breasts to the forehead, so that your neck and décolleté get double the benefits. 
Never forget about sunscreen when you are in the sun for more than 20 minutes.
---