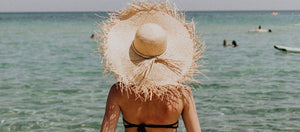 The ABC's Of Suncare
Despite our rainy weather, summer is basically here and that means long, sunny days spent outside in nature, on a beach or by a pool. While the sun is great for a dose of vitamin C, it can be very hard on the skin, causing dehydration, hyperpigmentation and of course sunburn if you are not diligent about sunscreen application.
Before You Step into The Sun 
There are some things to avoid because they can cause sun sensitivity and irritation: 
Vitamin A: Most forms of this vital skin ingredient do cause skin sensitivity; however, Retinyl Palmitate is usually safe to use 

Acidic Peels: It is better to wait until spring or fall to do these as skin heals faster in milder temperatures. 

Waxing: Wait at least 48 hours before venturing into the sun 

Aromatherapy Products: These can be highly active and create irritation which is exacerbated in the sun. 

Medications and Antibiotics: Check with your doctor to make sure what you are taking is safe in the sun.  
While You Are in The Sun: 
To avoid Sunburn do not forget: 
Sunscreen is key. Stick to SPF 30 (higher SPF's can cause block pores and cause breakouts) and reapply regularly. Wait a few minutes and let it sink in before exposing skin to the sun. And do not forget about lips, ears, and bottom of the feet. 

Hydrate: Drink lots of water. 

Protect your eyes and scalp with sunglasses and hats. 

Do not overdo it. Sunburn can cause irreversible damage for years to come. 
After Care: 
To keep skin healthy and tan try these: 
Mild Exfoliation: Body scrubs or chemical exfoliators remove the ashy dehydrated skin
Hydrate at night

: Oils and Rich Creams seal in moisture and keep 

skin glowing

. You can use them alone or combine a few drops of oil into your favorite cream.

 
Hydrate during the day: Lighter oils highlight tanned skin while moisturizing
If You Do Get Sunburn:
Sunburn can cause redness, swelling, sensitivity, blisters, and peeling. To alleviate these symptoms, try these: 
Avoid hot showers or baths, opt for cool water 

Open Omega 3 capsules and apply liberally to sunburned areas. 

Use soothing cleansers, serums, and light cooling creams 

Avoid direct sun on any sunburned areas until the sunburn has subsided 

Wear SPF, hats, and sunglasses to protect sunburned skin. 
---