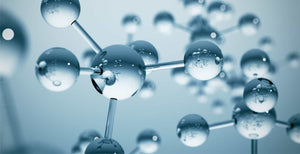 The Power Of Peptides
Peptides are short chains of amino acids that are the building blocks of proteins that the skin needs to look and function its best (ex. collagen, keratin, and elastin.) Lab engineered peptides are used in skincare to send signals to the cells to create more collagen and elastin. The consistent use of products containing these peptides can lead to plumper, firmer skin.
There are many types of peptides and peptide compounds that work differently. So depending on your skincare concern, there is a peptide or combination of peptides that target specific conditions including:
Oligopeptides induce and stimulate new collagen growth.
Hexapeptides inhibit the movement of facial muscles acting in a similar way to Botox and improving the appearance of wrinkles and fine lines and improving skin texture and tone.
Palmitoyl oligopeptide and palmitoyl tetrapeptide-7 promote the production of collagen and hyaluronic acid and help protect against UV damage as well as fight inflammation.
Copper Peptide enhance regeneration and healing as well as increase skin elasticity and firmness.
Below are a few of our favorite peptide products:
 Soft and gentle rich cream dedicated to mature skin, infused with peptides with anti-aging properties: they help stimulate fibroblasts to boost the production of hyaluronic acid, collagen and elastin.Contains a blend of ingredients which help to reduce the common signs of skin ageing (wrinkles, loss of tone, dryness) like ornithine, a aminoacidic derivative which helps to stimulate lipogenesis, as well as chasteberry extract, well known for its richness in antioxidants and phytoderivates, and imperata cylindrica extract which has good moisturizing properties.
A light and refreshing tonic lotion enriched with peptides that help stimulate fibroblasts to boost the production of hyaluronic acid, collagen and elastin. The ideal start of the beauty routine, It promotes a smoothing action thanks to the presence mandelic acid. An energizing cocktail with cherry water for a radiant and toned skin. 
A rich cellular treatment with MATRIXYL, bioenergetic ingredient that by combating overnight the signs of ageing, help smooth away fine lines and wrinkles while firming the skin. Wrinkles and fine lines are visibly diminished as if they were "plumped-up" from within. The skin is strengthened, nourished and protected. It looks smoother, more supple, more resilient.
Product specifically formulated for dry and very dry skin. This eye contour cream helps prevent formation of fine lines, wrinkles, puffiness and dark circles. Thanks to combination of unique botanical ingredients, improves microcirculation, protects the integrity of collagen and elastin bundles and fights against free radicals.
---