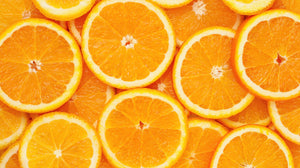 Vitamin C - The Hero Ingredient
Vitamin C is one of our favorite ingredients that delivers multiple skin benefits.
Collagen production is one of the main, which helps plump the skin and fill in fine lines and wrinkles while slowing down the ageing process.
In addition to its powerful anti-aging benefits, vitamin C can also help even out the complexion and protects the skin from the sun's UVA / UVB rays. And because it is an antioxidant, it helps strengthen skin and protect against free radical damage. It inhibits tyrosinase, which slows the production of melanin, effectively lightening discoloration. With regular, daily use, skin appears more youthful and even without cosmetic treatments or lasers.
Absorbic Acid is the most common type when it comes to skincare, however it has trouble passing through the lipid bilayer, and must be used quickly,. It also is not the best option for those with sensitive skin, as it requires a low pH to be truly effective. 
Ascorbyl Phosphate Salts are gaining in popularity because of the ease with which they penetrate the cell wall, as well as their stability. Because of their permeability, they can be used in lower concentrations and deliver the same excellent benefits. We also have Ascorbyl Tetraisopalmitate. Unlike the previous two, Ascorbyl Tetraisopalmitate is oil soluble, enters the skin cells with ease, and can deliver up to ten times more active Vitamin C, ensuring more effective brightening, strengthening and protection.
Whichever type you choose, Vitamin C is an essential nutrient for skin health.
However, remember what you put in your body is just as important as what you put on it, so eating foods high in vitamin C will also benefit your skin. In addition to the orange, this vitamin is also found in strawberries, brussel sprouts and red peppers to name a few.
---